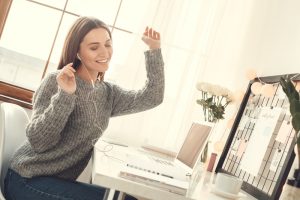 At times being a full-time online freelancer can be hard to explain. For people who have never gone the freelance route, they might get confused by some common freelancing myths. Different myths may range from believing that freelancers wear sweat pants all day to more harmful myths, such as freelancers are unable to make a substantial living by working online. During our free webinar training, we have explained how freelancers can make a steady income by working for online companies and how to make that happen. If you're thinking about starting a freelance career, it's time to get your facts straight.
They Don't Have Their Own Business
Inc. reveals the truth about freelancers, which is that many set up a business as an individual or as an LLC. Read more on what steps freelancers take while setting up their business online:
Actually, freelancing can absolutely mean starting a business. For consistent part-time freelance workers, and especially full-time freelancers, it is recommended to set up a business, rather than working as an individual (IE independent contractor). There are several financial benefits to setting up a business. The most common way for freelancers to set up their own business is an LLC (Limited Liability Corporation). An LLC offers legal sanctities, in that it separates your personal finances from your business. Therefor if someone sues an LLC they cannot come after an individual's personal assets. There are also tax benefits to setting up an LLC vs. staying in an independent contractor. A freelance company is likely to come across as much more professional to new prospects as opposed to just a person pitching services. This is one of the many reasons that freelance work isn't something to just pick up and run with. There's a foundation that needs to be built just like any other legitimate business.
They Don't Make a Lot of Money Online
Freelance Writing debunks the idea that freelancers can't make a lot of money online by giving us a rough idea of what some freelancers may make online. Check it out – it's quite a lot of money!
Here is another myth that was circulated by people ignorant of the facts about modern freelance writing. You see, there are many freelance writers that earn well over $100,000 per year, and upwards of $500,000. In case, you think these numbers are exaggerated, I would point you to elance.com or other work for hire websites, where the earnings of freelance writers are displayed.
They Wear Sweatpants Every Day
According to Creative Life, freelancers don't wear sweatpants every day. Okay, maybe some freelancers do, but that doesn't mean they don't get out and enjoy life. Freelancing gives freelancers the liberty to wear sweatpants, but they still enjoy life and get out wearing other outfits besides comfy sweats.
It's all sweatpants, every day. Yoga pants may be ultra-comfortable, but most freelancers do have to leave the house, which means they do have to wear real clothes. Client meetings, networking events, and the occasional lunch date means freelancers actually have pretty cute apparel.
They Have a Lonely Existence
Are you hesitant about becoming a freelancer because you think you'll be lonely? Flex Jobs disproves this myth by mentioning that even though freelancers work at home doesn't mean they don't have social lives. They may have to do the extra work to be social, especially if they get busy, but overall are social as they choose to be.
Another aspect of freelancing that draws many people to it is the idea of working from home. Again, depending on your career, this may or may not be the case for you (freelance photographers, for instance, will obviously have clients they work with in person), but even if you do have a job that doesn't require much personal contact, that doesn't mean you can't make contact a part of your gig anyway. Successful freelancers actually know that networking and keeping in touch with former colleagues and work friends is an important aspect of the job. Meeting up with people for drinks or coffee is a great way to stay in people's heads so that when the next big project comes up, you'll be considered.
Inc. pipes in by stating that there are plenty of meetups and networking events where freelancers can get together and enjoy each other's company.
It is true that a significant portion of freelance work is done from home, at a coffee shop, or a co-working space, etc. Some people mistakenly believe that type of career path would be perfect for an introverted personality. In reality this couldn't be further from the truth. Freelance workers are their own marketing team, and the face of their brand. Effective freelancers need to work extremely hard to build their client base, often attending meetups or networking events. Whether a freelancer is starting a business or trying to keep a side-hustle, they need to be outgoing and resourceful.
They Don't Have to Deal With Paperwork
CBS News discusses why freelancers have to deal with paperwork and just because they're not in an office doesn't mean they don't have to keep track of paperwork. For some freelancers, it can get challenging keeping track of their different client invoices, expenses, etc.
In a large office, you might be doing more corporate paper-shuffling, but when you're self-employed, invoicing and contracts are still a large part of the job (again, if you prefer to be paid for your efforts). Freelancers learn to balance hustling for new clients and opportunities with following up on payments for previous projects.
Their Work is Always Exciting
As a freelancer, you probably want your work always to be enjoyable, but the truth is work can't be 100% enjoyable all of the time. There will be times when working on a project is more exciting than others. Like with any job, Freelancer's Union reminds us that there are going to be dull days sometimes, and that's okay.
One of the best things about freelancing is that, to a certain extent, you get to choose the projects you'll work on. If you work in a creative field, you'll also be able to develop your own unique style/niche/speciality, so that people who come to you want YOU, and let you be your whole self.

But there are going to be boring days. There are going to boring projects or boring revisions or boring accounting.

Also, some freelancers are happier doing work they're good at for steady clients than having constant new/exciting projects. They love the time they have with their family and they love the flexibility more than they love every single project they work on.
They're All Experts
A lot of freelancers do not start as experts. The No Pants Project discusses how many freelancers begin as amateurs and over time educate themselves, which helps them have a bigger and better income!
Nobody pays for beginners.

At least that's what you thought before you saw this graph from The Anatomy of A Successful Freelancer:

Did you see how many freelancers are self taught?

There's no doubt that there are a lot of snake-oil salesmen out there peddling the idea that anyone can become a freelancer and make a whopping $100,000/year.

This is false.

Of course you need skills.

But do you have to be an expert to start making money? No.

Besides, you're not "just anyone."

Here's what Just Anyone does to kick-off his freelancing business…

He slaps together a profile on a popular freelancing platform he read about in blog post called, "How I Made $5,000/month Traveling Thailand."

He includes all the standard fool's gold nuggets every other freelancer digs up when they Google, "How to Make A Profile Online."

After that, he whips together a proposal and sends it out to 20 or 30 job postings. Then, he waits for the moola to roll in so he can swim in it like Scrooge McDuck. And?

Crickets.

Or, even worse, he hears from a client who is totally happy to hire him…at $5 per hour.

It doesn't matter if you're a beginner or experienced:

If you want to stand out in the crowded marketplace you've got to….stand out.

The Wildebeests of the freelancing world think this means talking up their experience.

The Wildebeests say things like:

I'm an experienced professional web designer.

Or

I have extensive experience in the corporate sector.

Blech.

Would you want to spend a day reading profiles and proposals like that?

Don't be a Wildebeest.

Unless you're a heart surgeon employers aren't all that interested in your experience level.

They want to know one thing and one thing only:

Can you solve their problem?

Put twenty high earning freelancers from all different industries in a room and you know what they'll all have in common?

They're all creative problem-solvers.

They've researched what people in their field need help with, taken an honest inventory of their own skills, and strategically positioned themselves to attract the exact clients they can help.

They've found their freelancing ninja-superpower.
Embarking in the freelance world is exciting, and now that you know what not to believe, you can continue to learn more tips by joining us during our next free webinar training. We'll share with you additional ways to make money online and what you can do to succeed.
Sources: Creative Life, Flex Jobs, Inc., CBS News, Freelancer's Union, Freelance Writing, The No Pants Project
CHALLENGE Yourself to Profit!
Free Download: Build Your Profit-Generating Online Business With This Free Blueprint
Sign Up, follow the easy steps and You'll get the tactics, strategies & techniques needed to create your online profit stream. It's free!