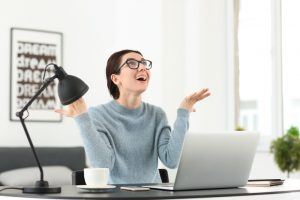 If a freelancer is healthy and happy, they usually are productive. Taking care of one's health and body naturally improves a person's productivity and focus. Most freelancers work at home and may or may not get a lot of exercise or the opportunity to get up and stretch their legs. It's essential to avoid being inside all day, or it can take a toll on a person. Learn how to be a productive freelancer who knows how to do well in business and find a balance (and we address how to do this in the free webinar training as well). You can do this by checking out and applying these 7 game-changing habits below.
1. Practice your skills 
One of the number one ways to improve life has a freelancer is by practicing your skills, as Due recommends below.  
Whatever you produce, how you practice is how you will perform. Always work to produce high quality results for clients and always seek to improve your skills and performance. I often warn that you shouldn't "let perfection get in the way of progress," but that doesn't mean you shouldn't always strive to improve and output the very best result possible.
2. Stay organized 
Lack of organization makes it hard to stay on task and not get distracted. That's why USA Today recommends focusing on organizing your space so that you'll be more likely to get more accomplished throughout the day.  Besides, getting distracted by looking at the mess on your desk will make you feel anxious, which is what you're trying to prevent during your best work hours. 
It may be the most telling characteristic of a successful freelancer. It is important to always maintain a level of professionalism, and one way to do that is by being organized. Keep track of invoices, receipts, and all written contracts or agreements. This kind of self-accountability will impress potential clients and will likely be mentioned in any referral.

Additionally, it is important to maintain a detailed calendar. Not having a thorough, complete understanding of all your meetings and deadlines is one way to lose the trust of a client. When in doubt, add it to the calendar.
3. Know how to say no
Perhaps you have a hard time understanding how to say no, and if that's the case, Lifehack recommends learning how to do so. You should be able to say no to more work from existing clients or saying no to taking on work from new clients. If you aren't able to say no, you may get overwhelmed and not finish the projects you do have. 
You can't say yes all the time. Learning when to say no is hard enough as it is, but learning how to say no is just as important. When you turn down a project or a client, it is vital to do so with a friendly attitude and not burning any bridges. Relationships are the key to success in much of life, and freelancing is certainly included. Keeping strong relationships even when a project isn't the right fit will ensure you have plenty of work for years to come.
4. Create a focused environment 
Do you have a focused environment that makes working go smoothly? Fast Company suggests setting up a dedicated workspace where you can get work done without getting distracted by your surroundings, favorite pet, or even family members. 
You may not need a private office, but it's important to have a dedicated workspace where you have the materials, information, and resources handy, Kruse says. Setting up the tools you need to work and tracking down files and information takes time away from actually doing the work and being more productive, he says.

While you might not be getting called into meetings or have coworkers stopping by your office, there are plenty of distractions when you're self-employed, Thomas says. Home-based workers may feel the call of housework or favors for neighbors during the workday, while those in small offices may go down the social media rabbit hole.

Work on actively minimizing distractions by turning off push notifications on social media and answering email and phone calls at scheduled times during the day. Don't be afraid to tell neighbors that you're working and can't chat, and schedule housework like you would other tasks, she says.

Freelance writer Joelle Klein also suggests using apps like Freedom that temporarily block social media and other sites that are fodder for distraction. Time Out is another app that helps you schedule in breaks so you can stay focused as you do your work.
5. Stick to a nutrition plan 
As we mentioned at the beginning, taking care of yourself influences how your body feels. To stay healthy physically and mentally Invoice Ninja recommends sticking to a nutrition plan. Follow a regular eating plan, and you'll have better chances of staying healthy.  
The food we consume can have a big impact on our focus and energy levels. Too much processed sugar can cause blood sugar spikes and crashes which destroy concentration. Eating a heavy meal at lunchtime can cause lethargy in the afternoon. Too little protein or vitamins can also negatively affect our levels of focus.

To do: Research and develop a healthy eating plan. Schedule what you need to eat every work day and when. Buy the healthy ingredients at the start of each week and create meals which are nutritious and beneficial to mental focus, emotional balance, and physical health.
6. Keep the emails shorts 
Another easy habit you can implement is keeping the emails short, as Executive in Sweatpants says is beneficial. Writing long emails can quickly eat up your time, and when time is valuable, you don't want that to happen.  
How long would it take you to compose a 500-word email?

If you're a fast typer, it would probably take at least 30 minutes – perhaps longer. Compare this to a brief conversation, which might only take a few minutes. Most people can talk faster than they can type; yet, some freelancers just love to send really, really long emails. I suspect it comes with the territory of being "virtual." Having real conversations can be uncomfortable – sending an email just "feels" easier (even if it takes more time).

I believe long emails are counterproductive for several reasons. First, there's the tangible cost associated with composing a lengthy message. If you can get an answer in a five-minute conversation, why waste the client's money by spending more time composing an email? What's worse, an email offers very limited value to the client. Compare this cost and time investment to that of creating a blog post. With roughly the same amount of words, a blog post lives on the internet forever and could generate continuous value for your client's business. An email, on the other hand, might have some short-term benefit from an operational standpoint. However, it's likely the message will be ignored or overlooked entirely. When this occurs, the email has created a doubly negative impact to the client's bottom line.

High-quality freelancers will bypass long emails and drive for faster results and answers – whether that's through a quick phone call, instant message, or text message.
7. Don't slouch at the computer 
Are you slouching while working? If you are Invoice Ninja says to figure out a way to break this bad habit. Overtime slouching can affect your back health and lead to other health conditions. Focus on sitting correctly, and your back and muscles won't have to suffer down the road.  
Sitting slouching at your desk, day after day, can cause a number of health issues. Most notably are problems associated with poor posture and lack of movement. Pelvic tilt issues can arise from too much sitting, which is where your butt begins to stick out abnormally and as a result, cause back pain and other musculoskeletal disorders.

To do: As mentioned before, take regular breaks from your desk. During these breaks stand up, move around, and do some stretching exercises. Also consider the benefits of using a standing desk for part of your day. When you do sit, keep the back straight and avoid slumping. This helps your focus and energy levels as well.
Join us during our next free webinar training to soak up more knowledge on how to create a profitable business. We also suggest other tips, such as coming up with positive habits that'll aid you in online business success! 
Sources: Invoice Ninja, Due, USA Today, Fast Company, Executive Sweatpants
CHALLENGE Yourself to Profit!
Free Download: Build Your Profit-Generating Online Business With This Free Blueprint
Sign Up, follow the easy steps and You'll get the tactics, strategies & techniques needed to create your online profit stream. It's free!