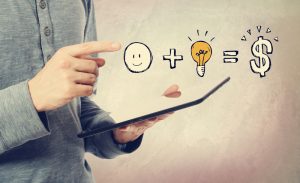 If pay-per-click (PPC) ad campaigns are something a company is focusing on, then tracking the performance of PPC ads is essential. Since PPC strategizing takes a lot of work, it's vital to always work on performing campaigns. So what's the secret? It takes a lot of practice and training (which we often discuss in our free webinar training), but with knowledge even new, small businesses can harness PPC advertising. Below we reveal five tips on how online businesses can improve their performance of PPC campaigns:
To improve how well your PPC ads do, Hubspot recommends customizing your target audience, interests, location, and search terms.
In any PPC platform you choose, you have ability to choose who you want your ads to reach. The "who," in the context of Google Ads, includes your audience's location, interests, apps they use, and of course the searches they perform. You can also create custom audiences each with their own "custom affinities" and "custom intents" to help you further tailor your PPC campaign to the right people.

Once you've established your target audience, you'll top it all off with specific search terms, whose SERPs you want your ads to appear on (this is assuming you're creating Google Search Ads). Be careful how many keywords you choose for each ad. Contrary to what Google Ads might suggest, the more keywords you choose to place an ad on, the higher the chance you'll wind up in front of the wrong audience.

Start with just one or two keywords that are high in search volume and match the intent of your target visitor.
Search Engine Land says to focus on optimizing your keyword quality score and discusses three elements that affect and determine your Quality Score (QS).
Google's entire business model relies on providing searchers with relevant results. This goes for organic results as well as AdWords.

To do this, Google assigns your target keywords a Quality Score (QS). This QS, along with your CPC (cost per click) bid, is what then determines your "Ad Rank."

The three elements that determine your QS are:

Ad relevance (in other words, how relevant the keyword is to the ad copy you serve).

Landing page experience.

Expected CTR (click-through rate).

Many PPC experts consider CTR the most important factor when determining QS. Therefore, when looking to optimize your QS, start with CTR.

Analyze the keyword relevancy of your campaigns. Is your ad copy aligned with the search intent of the keyword?

It's good practice to create separate Ad Groups for each of your keywords. Also known as Single Keyword Ad Groups, this is where you cater to the intent of specific searchers rather than a larger group.

In the example below (courtesy of ConversionXL), ASDA is the only advertiser for the term "womens red dresses" with copy tailored to that search term.

As well as relevancy, your ad copy should quickly sell the benefits of the "click." In other words, why should the searcher pay attention? Make your headlines relevant, focusing on the desires and pain points of your audience.

By optimizing CTR, and therefore quality score, you'll generate more qualified traffic. And high-quality traffic delivers better conversion rates.

Once you've optimized CTR, your landing pages should be the next target. Dynamic text replacement (DTR) can provide some quick wins. This "swaps" specific copy in your landing page based on the keyword the user searched to find you. DTR can improve quality score and therefore contribute to a higher CVR.
At times it may be in your best interest to pause keywords with poor performance. Wordstream names off a few ways to tell whether a keyword has lousy performance and what you can do to improve the keyword or pause it.
How do you know if a keyword has poor performance?

First, make sure it's been running long enough to acquire enough data to make this decision. If a keyword has only been running for a few days I would suggest giving it some more time to accrue data rather than just pausing it right away.

Also, do your homework before pausing a keyword. Investigate to find out why the keyword is not performing well. Here are a few common scenarios I often see:

The keyword's bid is not high enough. Take a look at the page #1 CPC and the top of page bid estimate to ensure your bids are competitive enough. In Kristi's ad group "Womens Ski Jackets" I noticed that she has about 12 keywords with bids set to only a penny for their max CPC; in this scenario if Kristi ups the bids she will likely gain a lot more traffic.

The keyword has low search volume. If the keyword is not accruing much traffic even though you are bidding enough, the keyword may be too long-tailed or simply a phrase that users are not searching for. I would recommend pausing these keywords to de-clutter your account. It is also important to pause keywords that are getting lots of impressions, but very few or no clicks, as this will hurt your click-through rate and Quality Score. Kristi paused the keyword "ski" because it received over 7,000 impressions, but only 4 clicks, resulting in a .06% CTR. Likely the keyword was too general, and was therefore underperforming and hurting Kristi's account, so she was smart to pause the keyword.

The match type is either too broad or too restrictive. If the volume is high, but the click-through-rate, conversions, etc. are super low on a broad keyword, then pause it and add the keyword with a more restrictive match type. In Kristi's account I noticed the keyword "ski clothing" on broad match has a really low click-through rate, so in this case I'd suggest pausing that keyword, and adding it on phrase match to increase the relevancy. If the keyword is on exact or phrase, but not getting much traffic, try adding it as modified broad or broad match to open it up to a larger volume.
Do you ever take the time to identify design landing pages that match the intent of each search term? As Hubspot advises, creating a better destination page can optimize a website and prime it for potential customers.
It's not a good idea to make the destination of your PPC ad your website's homepage. This only serves to confuse your visitors and, ultimately, scare them off. Whether you choose from an existing webpage on your domain, or design a new one, make sure you're sending your visitors to a destination that helps them find what they're looking for. This is known as "intent match," and search engines like Google take it very seriously.

Let's go back to our "ice skates" example from step 5, above. If someone searches for "ice skates," clicks on your ad, and they're taken to a page on your website offering ice skating lessons, you haven't matched the intent of their search — even if this page is set up to convert visitors using a signup form for paid skating lessons. These people are looking to purchase ice skates, not lessons. Therefore, a better destination page for this ad would be a product browsing page with all of your available ice skates listed and optimized for purchasing.
According to Search Engine Land, another way to improve your PPC campaigns is to test new ad extensions
To cut through the noise, you must capture as much SERP (search engine results page) real estate as possible. This means not only standing out with your creative but also expanding how much room your ads take up.

To do this, test different ad extensions on your top-performing campaigns. Ad extensions, as defined by Google, "expand your ad with additional information — giving people more reasons to choose your business. They typically increase an ad's click-through rate by several percentage points."

Ad extensions come in several forms, the most popular of which are:

Sitelink Extensions: Provide links to other relevant pages on your website.

Callout Extensions: Additional information on what you're offering, e.g., limited stock and free delivery.

Structured Snippets: Allows you to highlight specific elements. For example, if you're selling "Italian vegan leather boots," you can include a list of shoe sizes.

Location Extensions: Include your business address and telephone number in your ad copy.

As you're well aware, mobile user behavior is very different from desktop users'. Indeed, 61.9 percent of all PPC clicks were from a smartphone during Q3 of 2017.

Google has reacted to this shift in behavior by adding additional extensions for ads that appear on mobile devices. These are:

Message Extensions: Allow users to send an SMS to your business directly from the SERPs.

Call Extensions: Similarly, users can dial a phone number provided within your ad copy.

As always, test different extensions on a small scale before applying them to all of your campaigns. Keep the customer's journey and intent in mind. Are they searching for a term with several possible outcomes? Consider using a Sitelink extension. Does it look like they're searching for your retail store on a mobile phone? Include mobile extensions.
Now that you can try these five tips to improve your PPC campaigns, join us during our free webinar training to learn about how you can create a profitable and successful business. There are many aspects of companies that you can always improve, and we show you what does and doesn't work.
Sources: Hubspot, Search Engine Land, Wordsteam
CHALLENGE Yourself to Profit!
Free Download: Build Your Profit-Generating Online Business With This Free Blueprint
Sign Up, follow the easy steps and You'll get the tactics, strategies & techniques needed to create your online profit stream. It's free!