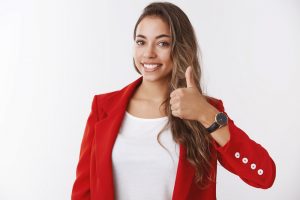 Starting a business is full of ups and downs. Whether it's revamping a business plan or coming up with an exciting business idea, many things can go wrong. Similarly, many things can go right! As a female entrepreneur, it's essential to know who has your back. Having a support system can help you through good and bad times. To excel as an entrepreneur, it's going to require a lot of grit and determination, but it's nothing you can't handle. Check out our free webinar training and learn about some additional ways to excel as a successful female entrepreneur. 
1. Get feedback
Inc. recommends getting feedback regularly because it'll help you learn different ways to improve. It'll also help you figure out ways to better reach your customers and determine what else you can do to reach more people. 
Feedback is critical to validate your business. Competitive research can also help you understand what customers want. You will need to go beyond researching on your competitor's websites. Read reviews, find articles about them, and interview their customers. Pay particular mind to negative reviews and ask people specifically what they wish they were getting out of the product or service they're using from your competition.

Doing this in-depth analysis will help you determine where your competition's strengths and weaknesses. Once you find their weaknesses, you should exploit them by making sure your product or service fills that gap for customers.

If you are in a business that produces a product, then crowdfunding can be a great way to quickly validate your idea. Even though there are several crowdfunding sites, iFundWomen is a new platform for women-led startups and small business and offers free crowdfunding coaching.
2. Know your worth 
Never doubt your worth. Entrepreneur explains that women are known to get paid less than men in the workforce. However, you should base your business on the work you deliver, and not whether you are male or female. If you should ever run into an issue when you feel like you're getting paid less than what you're worth, don't settle. 
It's no secret women earn less than men in the workforce. Unfortunately, this disparity carries over into entrepreneurship, where women business owners earn 28 percent less than their male peers. In our experience, this sometimes stems from women using their former corporate salary as a starting point for deciding what to charge. However, your professional rates should be determined based on the business value you deliver to your clients.

Start by putting a dollar figure on the problem you help companies solve, and don't overcomplicate it. Look for an obvious metric, such as lost sales or how much of people's time (and thus salaries) is being wasted by dealing with the problem. Next, determine what kind of dent you can realistically make in the problem. From there, you typically want to aim for providing clients with a five-to12-times return on their investment to work with you, depending on your field.
Addicted2Success explains how important it is to keep the faith and never give us on yourself. We couldn't agree more! 
In running a business, you will encounter a series of ups and downs. From initial success to losses and other challenges, these things are all part of the business process.

No matter how rough the road is, you just have to keep that faith and believe that despite the odds, you will make it through.

The Chairman, CEO and Designer of Tory Burch LLC, believes that "You can have it all. You just have to know it's going to work."

When you believe that everything can be done, everything is possible.
3. Have a positive support system 
Inc. recommends having a positive support system to help you improve your business. Exchanging stories of success and difficult times can only make you stronger. Lean on your friends and figure out ways to work through any situation that may come your way. 
Female entrepreneurs can shorten the path to success by learning from the success and failures of others. It is important to have both mentorship and accountability to make sure you do not get stuck in your own head or the overwhelming amount of information on the web.

At HaveBIGplans.com, we strive to empower women and millennials to becoming business owners and guiding established entrepreneurs toward prosperity with coaches and mentors who have actually had real world success as business owners.
Business News Daily also discusses how visiting with other women can improve your business. Chat with other women in your industry and bounce ideas off of one another. It'll help both you and your online business grow.
"There are a lot of like-minded women building businesses and groups focused on women entrepreneurs. Some are locally based, industry-based, even nationally based. Participate in those groups and create your network of other women entrepreneurs … Whether it's referring a new client, an investor, or just someone to vent about the challenges of running a business, no one can empathize with your situation better than another female entrepreneur." – AlexAnndra Ontra, co-founder and president of Shufflrr and co-author of Presentation Management: The New Strategy for Enterprise Content

"Although there are educational entrepreneurial programs, nothing can really prepare you for the real-life hurdles of owning a business. Find a solid mentor or mentor(s) to coach you, introduce you to people and bounce ideas off of. I actually didn't have a mentor when I started out, and I wish I did. I have a few now that always give me great insights that I wouldn't have thought about myself." – Kimberly Eberl, CEO and owner of The Motion Agency [Related: How to Find a Mentor]
4. Realize it's okay to fail 
If you do go through times when you feel like you've been unable, Inc. says that it's okay if you fail sometimes. Reflect on your failures and learn from them. You often will learn more from your failures than your successes. 
You have to move outside of your comfort zone. Resumes that include failures are great proof that you have taken the necessary risks in your journey. Often, women are more affected by failure and let it affect their confidence. Don't let it. Failure is an inevitable part of success, from which we learn.

Remember the great advice of George Burns, "I honestly think it is better to be a failure at something you love than to be a success at something you hate."
Fundera adds a thought by Barbara Corcoran, who is a successful entrepreneur. She failed at putting together videos of apartments she wanted to show prospective tenants. Due to her failure, however, she was able to leverage the internet and create a business powerhouse. 
Barbara Corcoran, is high on our list of successful women entrepreneurs. Corcoran is a real-estate mogul and star of the hit show Shark Tank. says that some of her greatest failures seeded her most stunning successes. In her TEDx talk, she recounts that she once spent $77,000 on videotapes of apartments she'd show to prospective tenants. It was a massive fail. No one wanted to see apartments on VHS tapes.

Not long after her misstep, her husband put her on to this "new thing" called the internet. She discovered that placing those same recordings online converted prospects much better than VHS tapes. She was at least two years ahead of the competition and eventually leveraged the internet to grow her real-estate firm into a top-producing company in New York.
See failure as something that is going to help you, as hard as that may seem. Don't allow failure to get the best of you, as Addicted2Success reminds us. If anything, let the error to show you what not to do in the future. It's time to "correct" the failure and improve things going forward. 
Once failure sets in, you will never be able to have the courage to pursue what you have always wanted and imagined to do.

By letting failure get the best of you, no matter how great your business idea is, you have already set your path to failure.

For only the bold and the risk takers can succeed in this highly competitive world. As such, you should never be afraid of trying.

Do not let your fear of failure come to mind.

One of the youngest- female billionaires in America, Sara Blakely who is the founder of Spanx says that, "It is always important to make mistakes."

The biggest mistake that you will ever make if you are an aspiring entrepreneur is to allow fear of failure to achieve your goals.
5. Give yourself time to relax 
Are you giving yourself enough time to relax? Fundera reminds you to take time to unwind. Otherwise, you can get burned out. Even if you're an overachiever, you can't do everything. Take care of yourself, or it could backfire if you overdo it. 
Arianna Huffington, the founder of Huffington Post, and perhaps one of the world's most well-known women entrepreneurs learned the hard way that exhaustion can hinder even the most successful high-achiever. She once collapsed from sleep deprivation and broke her cheekbone from the fall. It was the wake-up call she needed to reorient her viewpoint on success.

She recently authored two books to address not only sleep deprivation but also what success really means: The Sleep Revolution and Thrive. These writings reflect a message that Arianna is passionate about: redefining success outside of money and power while prioritizing sleep and downtime for optimal performance.

When it comes down to the secret to success, Arianna sums it up here: "The way to a more productive, more inspired, more joyful life is getting enough sleep!"
Come to our next free webinar training! During our training, you can connect with other online business owners and learn how to take your business to the next level. You've got this!  
Sources: Entrepreneur, Inc., Fundera, Business News Daily 
CHALLENGE Yourself to Profit!
Free Download: Build Your Profit-Generating Online Business With This Free Blueprint
Sign Up, follow the easy steps and You'll get the tactics, strategies & techniques needed to create your online profit stream. It's free!