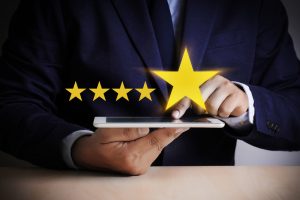 When a customer purchases an item on a site, there are a lot of factors that go into it. When I decide whether I'd like to make a purchase or not I typically ask friends for recommendations and then do further research online. When a new online business starts gaining new customers, it's an exciting time. We help guide new business owners on how to make a profit and secure customers during our free webinar training. When the money does start coming in, it's essential to secure positive online reviews.
Furthermore, if possible, it's preferable for a customer to write a review while still having the website fresh on their mind. But how does one get 5 star online reviews? Below are 5 steps to get more and better online reviews.
For starters, we thought we'd provide an explanation from Marketing Bitz on why 5 star online reviews are pivotal to business success.
Reviews are another way to increase your local search engine rankings through organic means. The more people discuss your brand, the better its visibility is to Google. Each review creates unique content that's relevant to your brand — and some review sites, like Yelp, may even come up higher in search results for keywords than your actual website.

In addition, consumers are increasingly wary and distrustful of marketing techniques. They work hard for their money — so they need reassurance that they're going to get a certain value when they hire someone or buy a product. That's why 90% of people check out a local business online before they actually visit it. It's also why 89% of consumers need to read multiple reviews for your business before they're willing to trust you.

Essentially, consumers are looking for a good reason to choose one business over all the rest. In an increasingly competitive market, that's exactly what you need to give them. Registering your business at online review sites and working hard to get those positive reviews is the best way to do it.
Create different spaces for customers to leave reviews
To prompt customers to leave positive reviews, Hubspot recommends creating different spaces. If you give them the option to leave a positive review on Facebook, your website, and other places they're more likely to leave a review because you're reminding them wherever they go.
Before potential customers even make it to your website to learn about your business, make sure they can learn about you no matter where they're conducting online research about making a purchase.

There are a few typical third-party sites people consult to learn more about a business or a product:

Facebook

You should also claim your business' Facebook Page so potential customers can find you to learn more about you without having to leave their social network. This is another site that rewards high levels of responsiveness, so make sure you assign someone to monitor incoming messages across the channels you're trying to optimize for new customer acquisition.

Google

Next, use Google My Business to claim your business on the world's biggest search engine, where potential customers might find you if they're searching for information on Google, or searching for directions in Google Maps. (This is of particular importance to brick-and-mortar businesses trying to attract foot traffic — learn more about local SEO in this blog post.) People also leave reviews using Google, which appear in the search results for your business, as shown below if you Google "HubSpot."
Appreciate your customers
This tip may seem obvious, but appreciating your customers can go far. Quicksprout says if you value your customers they'll be more willing to do things for you, such as leave happy reviews.
To be frank, reviewers don't really get much out of the process. It's just a nice thing they can do for other people reading reviews in the future.

However, many reviewers will do reviews if they know that they are important to you.

After all, you've just created a great product for them.

Even though they have paid for it already, many customers will feel that they should have paid more. This leaves them feeling indebted to you.

Many customers will leave a review if you tell them how important they are to you because then they can consider the two of you "even."

For example, RealSelf is an online medical professional directory. It publishes reviews on all types of cosmetic doctors so that you can find one you can trust.

After you have found a doctor through the service, RealSelf asks you to contribute a review to the site.

There are two parts of the email in particular that make it work so well:

"…would love for you to share your experience…" – They're not just asking you to leave a review for the fun of it. They're making it clear that they appreciate it and value it.

"…will also help others make informed decisions" – Since the customer was just in the tough situation of trying to make a good decision, they are likely to be empathetic to other people in the same situation. Some customers will leave a review just to help others.
Reach out to happy customers
Don't be shy — it's okay to reach out to satisfied customers! Marketing Bitz explains how to ask customers for reviews. They say it's about forming relationships and staying loyal to those relationships. If they've tried your product or services on your site (such as online coaching), you can start small by asking friends and family to leave reviews. Sounds pretty simple, right?
So, how do you go about getting more positive reviews?

Fortunately, getting good reviews is actually pretty easy. You simply ask for them. As soon as you open your business up for reviews on Google, Facebook, or Yelp, put your plan into action:

Ask friends and family who have used your services or bought your product to write a review. The odds are good that they're some of your biggest fans anyway. Ask them to be specific about what they find most compelling about your business so that their reviews have that all-so-important ring of authenticity.

Talk to your most loyal customers. You know who they are. Let them know what you are doing and ask them for their support. Try reaching out to the people that already support you online through your Facebook page, Twitter, Instagram, and Pinterest pages.

People love to be asked for their opinion, and you'll continue to build trust by making your most loyal customers feel like they're partners in your success.
Make it simple
The last thing you want to do is make the review process too complicated. Simpler is always better. Just ask Quicksprout, which recommends making the review process smooth and easy.
So we've established that most reviewers leave reviews because it's a nice thing to do.

However, there is a limit to how much most people are willing to give to be nice.

If you make customers jump through hoops to leave a review, most aren't going to bother.

The solution is easy: make leaving a review as easy as possible.

First, if you're asking for a review on any third-party sites, always link directly to the review forms on the specific sites.

Alternatively, if you're asking customers to leave a review on your site, let them start the process by clicking on a star rating within an email. All the biggest sites do this for a reason. It works.

The other benefit is that it makes it really clear that you're looking for the customer to leave a review (they know what stars represent).
Survey customers
Another option is to give customers the option of answering a survey after they complete or receive your service. Builder further explains how to make this happen:
This can be done immediately after the service is delivered, or later, across your contact database. Find out which of your customers might rate you highly by asking a pre-qualifying question through an email survey. A great question starts with "On a scale of 1-10, how would you rate your experience with your company name here?" For customers that select a high rating, immediately prompt them to leave a review on the site you are targeting.
How to get excellent reviews on Amazon
If you happen to sell an ebook on Amazon, for example, Wordstream has some excellent tips on how to secure excellent reviews on Amazon. In case you guessed it, it's all about catering to your customers!
Provide a great consumer experience. The majority of negative reviews involve consumers feeling misled about a product. Be honest about what you're selling and provide as much accurate, precise information about your product as possible to avoid any confusion or false expectations.
Send follow-up emails after an Amazon purchase asking for feedback. Amazon asks for feedback following a purchase, but it's a generic email with nothing special. Instead, send personalized review requests; ideally you want to send them shortly after they've received your product so its awesomeness is still fresh in their minds. You can even use a site like FeedbackFive to automatically send customized feedback request emails. Make it really easy for users to leave a review by including a link.
Request Amazon reviews via newsletter and social media. Chances are, the folks subscribed to your newsletter and your fans on Facebook already like you, so why not ask them for reviews? There's a decent chance they've already bought a product from you, so they can provide legitimate, positive Amazon customer reviews.
Five-star reviews are the goal for most businesses, but to get fantastic reviews you need to set up an irresistible business and offer excellent products. Join us during our free webinar training and learn how to turn your online business into a successful powerhouse.
Sources: Builder, Marketing Bitz, Quicksprout, Wordstream, HubSpot