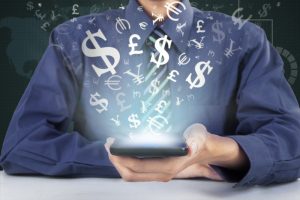 When people think of freelancers, they may think of creative jobs such as editing, writing, social media, and other marketing gigs. While many freelancers do find success in these fields, there are still plenty of other freelancing opportunities out there. During our free webinar training, we often talk about the endless amount of freelance jobs on the web, and specializing in technology is one of them. Here are 5 freelance tech hide hustles that pay big and pave the way to online freelance success!
1. Web development 
SkillCrush first discusses web development, and if you plan to go into this field full-time (remember, freelancers can work full-time for any company), check out the salary! It's impressive!
Becoming a web developer is the end game for a lot of people learning tech skills, and for good reason. The Bureau of Labor Statistics (BLS) lists the 2017 median web developer salary at nearly $70,000 per year and projects a 15 percent job growth rate (much faster than average) between now and 2026—all of which means web development is a lucrative and future-proof entry point into tech. But it's also a very flexible field—while you might picture yourself down the road working full-time job as a web developer for one company (or running your own freelance business), there's nothing stopping you from taking on paid clients and making extra cash while you're still learning the ropes (or taking up part-time web development as a long-term side hustle).

Once you know fundamental web skills like HTML and CSS (markup languages used to format and stylize web pages) you'll be able to start building basic websites, and these are skills that can take as little as a few weeks to learn. Add some JavaScript (a scripting language used to add animation, interactive forms, and other dynamic features to websites) and familiarity with WordPress (software for creating, publishing, and managing digital content) to your toolkit, and you'll have an even wider range of sites you can build and clients you can land. Free tutorials on HTML, CSS, and JavaScript can be found on sites like Codecademy and w3schools, and—when you're ready to expand your skills further—paid, instructor-led courses from sites like Skillcrush can help take your game to the next level.

Average Web Developer rate on Upwork: $75/hour
Ukandoo elaborates more on how popular web development is, and how going into this field has vast benefits. While figuring out which tech field is for you, you should also ask yourself what other tech skills you'd like to focus on developing. 
This is a more specific and experience required expertise but nonetheless a great freelancing option. With the internet rapidly taking over world, everything has gone digital – including businesses. Businesses and even individuals are promoting themselves online far more than they would offline. The demand for websites whether it be cooperate or personal, continue to increase as the world shifts towards having a greater online presence.

If you are already a web developer or programmer then that's great! You already have all the necessary skills and experience to jump right on board. We recommend that you start to think about your niche – where do your specialities lie? What kind of service are you going to provide? How are you going to brand yourself? Defining your 'niche' is crucial to making it in the freelance web developer and programming world.

Have little to no experience with web development or programming? Don't rule this one completely out! There are plenty of resources online for you to get started, so much so that it can actually be a little overwhelming! We know plenty of people who had no experience with web development whatsoever and within a few months taught themselves HTML, CSS and WordPress. Those basic skills alone are enough to get your foot in the door when it comes to the world of freelance. If you have no experience with coding or want to brush up your skills we recommend the following sites:

Udemy

Codecademy

Treehouse

Lynda
2. Software Developer
Computer Science Online talks about being a software developer online, which means you'd be focusing on developing software and applications. In an online world that's continually coming up with new phone applications, this niche might be right up your alley. 
Software developers create computer software and applications. They typically earn Bachelor of Science degrees in computer science or a closely related field. Many also have a deep understanding of computer programming. They should have a strong business background in the field in which they work, such as knowledge of banking, finance or healthcare. They'll need to be highly analytic to develop software that meets industry needs, and also be able to effectively communicate with team members and customers.

Median annual salary in 2017: $103,560.
3. Consultant 
Another tech job you should consider is becoming a consultant. TechRepublic talks about how this traditional opportunity has the potential to help you build a profitable online business. Use your skillset to your advantage, and you never know how many clients you may end up helping with projects! 
This is the most traditional of the opportunities listed here. Being a consultant means selling your knowledge and skills to the right buyers. It can apply to an array of fields, and it can involve working with different individuals or companies each day or week, or it could entail a temporary contract job.

According to PayScale, the average salary of an IT consultant in the United States is about $76K per year; the earnings scale ranges between $42K and $131K. Actual income will vary based on skillset and geographic location.

Mark Pollack, an IT consultant in New York enjoys his work because of the variability. He's worked at a lot of different and interesting companies such as Johnson & Johnson and White & Case. He enjoys the fact that sometimes his work positively affects his client operations. However, Pollack listed cons such as uncertain health benefits, the potential for a quick and unexpected termination of a job, and the challenges of finding new clients. "It's gotten harder as I've gotten older," he said. "I'm 59 now, and have lost gigs because I didn't fit the rest of the company's 'profile.'"

As far as skillsets, Pollack said the ability to learn software extremely rapidly is important. "Microsoft Office is a given, but you should at least be familiar with Jira, SolarWinds, ServiceNow and a host of other platforms," he said. "Being able to pick stuff up on the fly is a must. Also, being a contractor, you need to have a method of motivating people who have no reason to respond to your requests. I usually spend a lot of time with the people I'm working with so that it's harder for them to blow me off when they see me all the time."

A typical assignment first involves finding a client, which is the hardest part, Pollack said. He puts his resume on Dice and CareerBuilder, searches job boards frequently, attends meetups and other networking events and carries a wallet full of business cards since everyone is a potential contact.

Once he is at the client site he makes sure he is familiar with their software, finds out who the people are he needs to keep happy, makes sure he gets to know the the ones he needs to work with and understand what they do. Performing the work is the easiest part, Pollack said, since the work lies in his area of professional expertise, but he stressed, "Make sure your client is aware you are doing the work and it's not happening through some strange magic — believe me on that one!"

SmallBizTrends.com offers a good article on how to become a consultant. One important step involves obtaining the appropriate certifications and licenses, which is especially significant since this option definitely relies upon you knowing as much as you possibly can about your chosen niche in the knowledge market.

Most consultants have to travel to their clients, so make sure to factor in mileage and travel expenses in your billing plans or tax deductions.
4. Computer Support Specialist
Another tech job to consider is a computer support specialist. Computer Science Online explains what the salary and specifications are for computer support specialists below: 
Computer support specialists help companies and their employees with technical assistance, or they support an organization's computer systems and networks. Many computer support specialists work in call centers, but businesses also employ freelance IT support personnel to work nights and weekends. Although educational requirements vary, employers prefer support specialists who have completed associate or bachelor's degrees. IT support specialists need to be good listeners so they can understand scope of a problem, as well as good at solving troublesome computer or network issues. They also should have strong customer service skills since they routinely interact with customers.

Median annual salary in 2017: $52,810.
5. Tech Support 
Offering tech support is another profitable online niche to get into, and SkillCrush shares more details concerning this excellent job opportunity:  
Having a background in tech or computers is absolutely not a prerequisite for learning tech skills—tech careers are achievable for everyone regardless of where you're at experience-wise. That being said, as you familiarize yourself with tech you'll inevitably start learning your way around computers and technology. And that means you'll begin accumulating a knowledge base that people are happy to pay for. Tech support jobs are projected to grow faster than average (by 11 percent) between now and 2026 according to the BLS, so even if tech support isn't your final tech destination it can be a lucrative sideline as you hone your skills. Certification programs like Google's IT Support Professional Certificate are an efficient way to both learn more about tech support and be able to demonstrate your knowledge to potential clients. But don't let the idea that you have to know everything keep you from trying to earn money with a tech support side hustle. The more time you spend with tech, the more you'll see that "knowing tech" means knowing how to use Google and other resources to solve problems, rather than magically knowing all the answers.

Average Tech Support rate on Upwork: $37/hour
Join us during our next free webinar training, and we'll share how to start an online business and use your skillset to your advantage! We want to help you succeed, and there are many opportunities you can take advantage of to do so. 
Sources: SkillCrush, Computer Science Online, TechRepublic, Ukandoo
Free Download:
"Download The 21 Days To Profit Blueprint 100% FREE… and Discover The Single Most Profitable Niche Market Selection Technique"
All new plug and play blueprint builds
profitable Internet businesses in record time…
CHALLENGE Yourself to Profit!
Free Download: Build Your Profit-Generating Online Business With This Free Blueprint
Sign Up, follow the easy steps and You'll get the tactics, strategies & techniques needed to create your online profit stream. It's free!