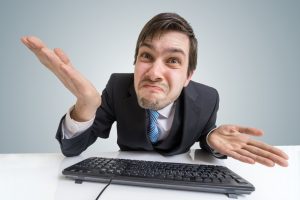 Growing pains in a small business aren't necessarily a bad thing, but it is a sign that they haven't come up with the right type of systems they need to move forward. Some of these growing pains are more common than others a company may come across, so if they prepare ahead of time, they'll know what to look for. We also discuss how to deal with growing pains during our free webinar training. Maybe some of the 5 growing pains we present below will sound familiar. If they do, pay close attention to the issues that may pop up so that they don't grow into something bigger.
#1: Continuing to put out fires  
The Balance Small Business says it's a bad sign if you continuously have to put out fires. If this continues to take place, you need to come up with a good plan and figure out where things are going wrong.
When staff repeatedly is spending time dealing with short-term crises, it often is caused by a lack of long-range planning or the absence of a strategic plan. It's inefficient for individual employees and the organization as a whole to be living from day to day, never knowing what to expect. Everyone should know what their longterm goal is and what they should be doing on a day-to-day basis to get there.

If this is happening with your business, it's probably a good time to do a SWOT (strengths, weaknesses, opportunities, threats) analysis as a step toward developing a strategic plan. Bring together key decision makers in your company to analyze where you stand in these four areas and how that knowledge can help you establish a clear plan for the future. For an exercise like this, it's often a good idea to bring in an expert from outside your company to help guide the process and offer additional insight.
#2: No Clear Goals
Have you set goals for your business? Infusion Soft says that if you don't have any goals set in place, then it'll be hard to get anywhere. Keep yourself (and your team members if you have any) accountable by outlining clear and feasible goals. Try to meet them by a set date and if needed, adjust your goals accordingly.
Another big issue when a company grows is making sure everyone is on the same page, working towards the same goal.

In order to sustain that growth, everyone needs to be in sync.

To keep the team in sync, set clear goals, make sure everyone understands them, and be certain they're easy to track.

That follow-up is important to keeping the team growing at a consistent pace so that you can sustain the growth.

What ends up happening is employees don't have the same passion, they aren't sure what's important (and might end up just blindly working on tasks), and you run the risk of not having the same vision as your employees do.

Idea to fix this: Using any type of goal-setting framework is an important part of keeping the growth strong within your team. OKRs (Objectives and Key Results), where you set specific, measurable goals for the following three months, are a great way to keep everyone on the same page. I would even print them and post them on the wall for everyone on your team to see.

Goals help keep your team accountable and ensure that there's no confusion when it comes to performance review time.
#3: Lack of Direction
It's hard to go anywhere if you're struggling with a lack of direction. Luckily The Balance Small Business says there's a way to fix that. We've been stressing this throughout these tips, but again, it's all about planning. We're just not talking about surface level planning but strategic planning. It's time to put your thinking cap on and come up with an effective plan.
This is closely related to the issue of employees constantly putting out fires, and the solution, again, is strategic planning that involves everyone.

Whether it is because immediate obstacles occupy too much time for employees or for other reasons, staff members sometimes can start to believe they are spinning their wheels and not really accomplishing anything. Not only does this lead to morale problems, but employees may lose interest and seek employment someplace where they feel a greater sense of purpose.

To avoid those issues and get everyone in the loop with the company's objectives and direction, a company-wide strategic plan should be broken down into subsections that address short-term and long-term goals department by department. This means one of the goals of strategic planning should be to make sure every employee understands the company's long-term and short-term goals, how that employee's department contributes to that, and how that employee contributes to his department's role.
#4: Communication struggles
It's essential to communicate with team members and learn how to improve the business. Struggling with team members by not effectively communicating can lead to some issues from lack of direction to burning through time doing tasks that aren't important. As Infusion Soft reminds us, communication is vital when working hard on business.  
As your team grows, communication becomes harder but also becomes more important.

It becomes harder because it's easy to forget to update everyone or assume that not everyone needs to be kept in the loop, but remember, knowledge is power. You want your team to have the most knowledge possible and make sure all teams are on the same page working towards the same goal.

You need a simple way to keep everyone in the loop and ensure that everyone has access to all of the information they need.

There also needs to be a way to keep everything organized. We've all dealt with the struggles that come from having the notes in one place, and the document somewhere else, in another file format, or generally impossible to find, etc.

These struggles need to be fixed as soon as possible, you and your team have other things to worry about than where the latest version of a document is.

Idea to fix this: Slack is by far the best tool to use for this situation. In fact, Slack stands for Searchable Log of All Communication & Knowledge. This is literally what you want for a situation like this. An easily accessible, searchable log for all of your team's communication. There's a reason why Slack's growth has been astronomical. It's because as soon as people use it, they realize it's exactly what they've been looking for for years.
#5: Your marketing plan isn't focused enough
Inc. says another thing to focus on is your marketing plan. Let's face it; marketing has a lot to do with whether you succeed or not. Focus on effectively marketing your site and not only will you bring more traffic to your site, but hopefully you'll make more money too!
Marketing and communications has a steep learning curve. While 95 percent of small business owners are tackling some of it themselves, only 46 percent would call themselves savvy marketers, according to Constant Contact. For those with the budget for it, a paid marketing strategy–working with influencers, launching a Google Ads campaign, etc.–can provide a significant boost to revenue. Of course, if you can afford paid marketing, it might be best to hire an actual marketer rather than making your own title even longer.

Even if an outsourced marketing manager isn't in the cards just yet, you'll want to start with the cheapest strategies you can put in place yourself.

Creating social media pages is a great place for a new business to start. Instead of getting your business on every platform (a daunting task), stick with the ones that are most relevant to your audience. Make sure to deliver content in the format your audience expects whether that's written, video or podcasts.
Business.com says you should also work on becoming savvier with marketing. You don't have to be a pro — but you should familiarize yourself with the leading social channels and focus on a few so you can grow your business.
Marketing can seem really overwhelming if you don't have a degree in it. This is why many small business owners consider marketing a challenge. However, excellent marketing is vital to the success of your small business, so you have to prepare yourself to take on this challenge or pass the baton to someone who can.

If you aren't a social media whiz and don't consider yourself to be a skilled writer, don't worry. There are a lot of people who are good at these tasks and they can help you. Seek out professionals, and remember that you can't do it all. It's okay to be an entrepreneur who excels at running a business and to pass on tasks that aren't your strengths.
As we mentioned at the very beginning, growing pains will happen, so don't be too hard on yourself. It's how you handle the growing pains is what's going to determine the success of your business. Join us during our next free webinar training and learn how to navigate the waters and come out strong.
Sources: The Balance Small Business, Infusion Soft, Inc., Business.com