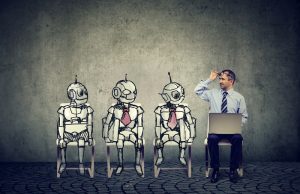 One of the latest trends to hit the online world is incorporating artificial intelligence in a marketing strategy. Using artificial intelligence is intimidating, but to stay with the times, it may be worth integrating it on a website. Instead of being intimidated by larger brands using AI, smaller businesses should consider the use of AI on these sites inspiring. AI has many benefits, from assisting with social media ads to targeted displays. Stay on top of other trends by attending our free webinar training and check out three ways to grow a business through AI starting today: 
Business News Daily does an excellent job of explaining why AI is rapidly growing and how it potentially could help your site grow. 
"Artificial intelligence is kind of the second coming of software," said Amir Husain, founder and CEO of machine learning company SparkCognition. "It's a form of software that makes decisions on its own, that's able to act even in situations not foreseen by the programmers. Artificial intelligence has a wider latitude of decision-making ability as opposed to traditional software."

Those traits make artificial intelligence highly valuable throughout many industries, whether it's simply helping visitors and staff make their way around a corporate campus efficiently or performing a task as complex as monitoring a wind turbine to predict when it will need repairs.

Machine learning is used often in systems that capture vast amounts of data. For example, smart energy management systems collect data from sensors affixed to various assets. The troves of data are then contextualized by machine learning algorithms and delivered to human decision-makers to better understand energy usage and maintenance demands.

Artificial intelligence is even an indispensable ally when it comes to looking for holes in computer network defenses, Husain said.

"You really can't have enough cybersecurity experts to look at these problems, because of scale and increasing complexity," he said. "Artificial intelligence is playing an increasing role here as well."
1. Search marketing 
Have you heard of search marketing? According to Entrepreneur, AI can help improve search marketing, and today is one of the easiest options for a new online business to reach their audience.
Search marketing is one of the biggest marketing tools any small-to-medium sized business has at its disposal, especially one reliant on a strong local population to keep it afloat. Think healthcare organizations, real estate companies, and more. Large brands have been leveraging the optimization AI can provide within search marketing for many years and it's one of the most accessible options for start-ups and smaller brands needing to reach their local communities. Not only can AI help by automatically optimizing campaign keywords, site performance and relevant tags, but it often yields a better result at a lower cost than what the company previously saw.

Additionally, artificial intelligence layered on top of search marketing can ensure these businesses are keeping on trend with mobile — it is a mobile-first world after all — and recapture web visitors that may previously have been lost along the funnel. Geofencing, in particular, can help a business drive brand awareness and target specific leads through their phones. For example, if a realty company sets its geofencing parameters to target the parking lot of hospital it can present itself to an audience that might be in needs of its services such as new employees, traveling families and more.

Using AI in search marketing has been a tried and true strategy for major brands for a while and fortunately, there has been a trickle-down effect making it increasingly effective for those who don't have a big brand budget and marketing team. As the consumer begins to adapt to artificial intelligence voice assistants, many large businesses are beginning to adapt their web presence to appeal to the likes of Alexa and Google Home. In the future, SMBs and startups may want to consider adapting for voice search marketing, as well.
The Next Scoop further explains how artificial intelligence can help you market your products to an appropriate audience. Pretty cool, huh? 
In marketing artificial intelligence is capable of analyzing data to come up with accurate buyer personas. Isn't it awesome to market a product to someone who actually needs it?

Artificial intelligence will in the future help to match buyer interests to your products up to the last detail. In this regard, the guesswork will reduce allowing your business to target only potential buyers.

Today, artificial intelligence is being used by companies such as Facebook through the ad network. In such a case, artificial intelligence would decrease the amount of time used to analyze data and A/B testing among other issues.
Furthermore, Inc.reveals just how much AI is changing the marketing world. AI-based advertising platforms can help you collect data on your audience and target consumers that would be interested in your products. 
Our survey found that 93 percent of marketing researchers think AI presents an opportunity for their industry. From eliminating the need for employees to do mechanical tasks such as data preparation to advanced data analysis (which our respondents cited as the top future AI application), AI is fundamentally changing marketing.

This is just as true for small businesses as it is for the largest companies in the world. While small businesses used to be limited to whatever ads they could afford in local markets, they now have the ability to reach a vast audience online. They can use AI-based advertising platforms that have been developed by huge companies like Facebook and Google to target specific consumers who are receptive to their message. They can collect and analyze consumer data from multiple channels. And they can do all of this without an army of marketers.

This is why it's no surprise that an April 2018 McKinsey report found that the impact of AI is "likely to be most substantial in marketing and sales." Small businesses should start integrating AI now if they want to reach as many consumers as possible in the future.
2. Customer care
An obvious way AI can help your company is through customer care. The Next Scoop explains how and why this is the case: 
Today, a lot of business owners are already using chatbots to answer customer queries 24 hours a day seven days a week. Customers are always impatient and therefore require undivided attention regardless of the point they are in their buying journey.

Using artificial intelligence would free up time for your employees in order for them to handle important issues that require human to human communication skills. Furthermore, artificial intelligence would cater for international clients who are out of your time zones instead of waiting for customer care agents to report to work for them to solve a query.
3. Sales efforts
Need help with your sales efforts? Flatworld Solutions discusses how AI is being used to improve sales by collecting the necessary information to target an audience effectively. 
AI systems are capable of capturing signals, which are often missed by the sales executives looking out for correlations in the existing customer data. For instance, if AI-integrated customer support tool predicts customer view based on their recent interaction, then businesses can use this information to build stronger customer relationship and reduce the churn. Besides, as soon as a business realizes that customers are not having a great feeling about their company, immediate proactive measures can be taken to change such perceptions, rather than waiting for the customers to say that they are unhappy. Therefore, by anticipating outcomes, businesses will know what to focus on, which is a major help of AI in small businesses.
Marketing Institute also reveals that artificial intelligence systems can help see into the future. Due to its future-seeing skills, AI can help show you how to improve your brand and target customers. 
Predictive Forecasting

Artificial intelligence systems exist that can predict or forecast outcomes using historical data to inform future results. Common predictions that sales AI systems can make include:

Deals or prospects most likely to close.

Deals or prospects to target next.

New customers that may be interested in what you're selling.

Now, the accuracy of those predictions depends on the system being used and the quality of the data. But the fact is that, with the right inputs in the past and present, AI is capable of showing you who is most likely to buy in the future.

Predictive forecasting can also create value for sales teams internally.

Using the same types of data analysis, AI can help sales managers forecast their team's performance for the quarter well in advance, so they can take proactive steps based on the numbers.

Lead Scoring and Prioritization

Artificial intelligence can look dispassionately at large datasets from a number of sources and tell you which leads you should prioritize, based on the scores the AI has given them.

As noted by sales pro Victor Antonio in Harvard Business Review, human salespeople usually approach lead scoring and prioritization in an unscientific way:

"Often, this decision-making process is based on gut instinct and incomplete information. With AI, the algorithm can compile historical information about a client, along with social media postings and the salesperson's customer interaction history (e.g., emails sent, voicemails left, text messages sent, etc.) and rank the opportunities or leads in the pipeline according to their chances of closing successfully."

In this case, AI can bring a level of logic and standardization to the process that humans just can't match.
Want to learn more about how to use AI and other current marketing trends to your advantage? Check out our next free webinar training and gain insight on how you can improve your brand and continue to make progress! 
Sources: Entrepreneur, The Next Scoop, Business News Daily, Flatworld Solutions, Inc., Marketing Institute 
CHALLENGE Yourself to Profit!
Free Download: Build Your Profit-Generating Online Business With This Free Blueprint
Sign Up, follow the easy steps and You'll get the tactics, strategies & techniques needed to create your online profit stream. It's free!