Two of the most important factors when it comes to starting a business are how fast you can generate revenue and the capital investment risk.  Some businesses require more time and/or capital to start than others.  That is fine and there is a place for those types of opportunities.  However, you may not have the luxury of waiting 6 months or longer to make money.  And having access to the kind of funds to start a successful franchise can take time to save up.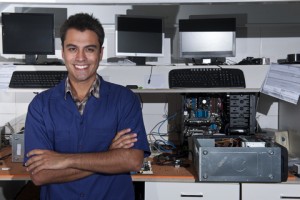 So the first steps to take would be to think what am I capable of doing in terms of my skillset?  And do any of these skills need updating or further learnings?  if so with the youtube generation there are many online tutorials as well as meetups to connect with other like minded people.
Ok, now what do people want or need in my area or online?  What steps should I take and how can I choose which one if you have a few ideas?
If you do want to start one or more side businesses we have a great list as posted in the article by noobpreneur.com:
Energy saving business

This idea is definitely hot in the past few years, and this year the emphasis on energy cost-cutting regimes will push any energy saving businesses even further. Producing or distributing LED lightings will be the right business this year.

Outsourcing

There is a better solution in your cost cutting campaign – outsourcing. Nothing new here, but outsourcing is indeed increased in demand and importance. As businesses cut costs, outsourcing service providers are well-sought after.

Green construction

Green homes and buildings are in demand and start gaining momentum in construction business trends – why? Because they use less resources, create less waste and promote healthy living for those who live inside.

Baby boomer-related business

The highlight of the year: Baby boomers are retiring from the workforce, creating a mega-problem to the economy – thanks to the flawed MediCare, Social Security and retirement funds. Creating a business that act as a safety-net for those baby boomers will boom your business sky-high.
For example a home care and/or errands and transport business could be a great idea.  Check in your local area for certifications and licenses and you could be up and running soon!
Cheap and/or recycled product business

"Turning trash into cash" type of business is very, very lucrative this year. With the increase in material and production costs, making use of 'useless' materials and create something out of them will proved to be a thriving business. One example: Creating Converse-like canvass shoes out of wastes – the scrapbooking style.
There are so many people who have done this.  From used clothing to the guy who makes skateboards out of old paint cans.
Bootstrapping and cost-cutting consultancy business

As every business owner aim to be leaner and more responsive, bootstrapping and cost-cutting consultants will have their moments this year – roles, such as energy consultants, Internet startup consultants, and similar others will enjoy substantial growth this year.
Most times businesses are leaving money on the table.  if you have a knack for seeing this tell people and get into the business of saving them cash.
Social media consultant/promoter/marketer

Having an established business website for your small business is no longer effective – you need to go social in your effort to promote your business. Unfortunately (or fortunately?) not all small business owner are "social-media-literate" – this is clearly a gap in the market.
Social media is confusing for many business owners and they don't have the time to manage an effective strategy.  If you can convince them you are capable of handling it, make it a business.
Services to Home-based business

Home based business is good, but offering services to those who work at home is terrific. Some small business ideas: An online community for home-based business owners, delivery services for home-based businesses, home office maintenance services, etc.

Business continuity services

Business continuity is a big issue in the past few years – with all the natural disasters (earthquakes, snow storms, etc.) and people movements (such as Occupy Wall Street) – businesses need to do strategic planning in ensuring their business continuity – or seek help from others to help them in their disaster planning, to the least. Establishing a business that take care of the whole process for companies is highly lucrative.
Do you have a handyman, construction or civic background?  or maybe just good awareness.  Figure out how you can help people streamline this process.
Copywriting

For websites, content is always important. But with the latest development in search engine arenas, such as Google Panda update that slams both low-quality sites and big user-contributed sites (i.e. eHow.com,) quality content is even more important today.
Do you excel at grammar and finding mistakes in articles?  This could be for you.
Each one of these could bring in cash flow fast and do not require a big time or capital investment by you.  It would take however, expertise, commitment and getting the word out.  Good luck!
CHALLENGE Yourself to Profit!
Free Download: Build Your Profit-Generating Online Business With This Free Blueprint
Sign Up, follow the easy steps and You'll get the tactics, strategies & techniques needed to create your online profit stream. It's free!