Here's Your Chance To Finally Escape Those CRAP Schemes And B.S. "Loopholes"—And Step Up To The Plate And Do It The RIGHT Way!
"We're Going To Lock Ourselves In A Conference Room And Personally 'Hold-You By The Hand' So You Can

STOP

Chasing 'Magic-Button' Riches…And

START

Learning From 2 World-Class Marketers Who Have Combined A Total Of

50 Million Dollars Online

…So We Can Help You Make

REAL

Money Online!"
That's Right: We'll Let You In On Our High-Level Coaching Program Others Have Paid Over $1,500 For When You Try Job Crusher Today & Get "Rolls-Royce" Training For "Coffee-Shop" Prices!
We're Doing This Because We're Celebrating The 6th Anniversary Of Job Crusher—And We Want You To Start Ignoring The Noise, Hype, And Insanity Out There And FINALLY Get Started On A Proven System For Getting REAL Results Online!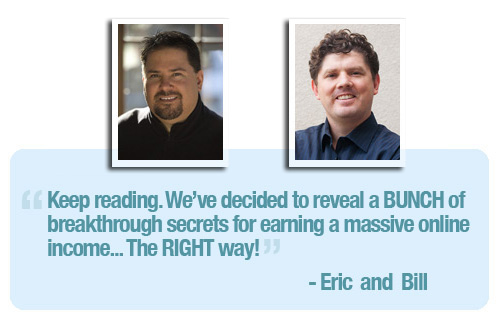 "Best Part: We've added some more
stuff to Job Crusher to celebrate it's 6th anniversary to help you earn a massive online income…the RIGHT and HONEST way!"
– Eric and Bill
From Bill McIntosh and Eric Louviere
RE: Escaping "Shiny Object Syndrome"
Dear Savvy Online Marketer,
Look, this isn't one of those "Make $23,432 In 24 Hours" pitches you see all the time on the Warrior Forum.
If that's what you're looking for, then I suggest you go to another WSO thread.
Because, to tell you the truth,
 We're Getting Sick And TIRED Of Seeing Warriors "Spinning Their Wheels" With $7 e-Books!
So if you want the REAL truth from 2 guys who have made over 50 million dollars online—without those "loopholes", glitches" and cheesy black-hat schemes, then keep reading every single word of this message:
Here's the deal: Eric and I have been in Internet marketing for a combined 20 years.  We've taught MANY of todays big-time Internet marketers you'll read about a little later.
We've done it all.  Affiliate marketing, selling our own products and creating our own companies.  And we've been teaching people how to follow in our footsteps through our membership site Job Crusher.
And today, well, you're in luck:
We're Reopening Job Crusher For A Limited Time—So You Can Try Us Out For The Price Of A Couple Starbucks Lattes!
You see, when you take action and give Job Crusher a try, you'll be exposed to a PROVEN system for making money online that ANYONE can follow.
You see, many marketers have credited joining Job Crusher for being a HUGE turning point in their lives.   They were able to leapfrog YEARS of trial and error and get results a LOT faster than if they "went at it alone".
In fact, Job Crusher has been running strong for 6 years straight!  And we decided to do something a little "strange" to celebrate.
We're going to let you in on our Elite weekly coaching program where we lock ourselves in a conference room and personally work with students to help them make REAL money online.
We've NEVER included our high-level weekly coaching program as part of Job Crusher, so if you want "in"…then keep reading every single word of this message.
I Know You're Just A Tad Skeptical
Right Now…And I Don't Blame You!
You've probably been pitched every single "trick", "loophole, "glitch", "blueprint", and "hack" under the sun in other WSO threads.
You know what I'm talking about.  The ones that only seem to "work" 1-2 months.  That is, until search engines decides to change their algorithm, or a social media company changes their terms of service or their layout…
…Leaving you empty handed (again). More wasted time…and more money flushed down the toilet.
So if your hard drive is riddled with unopened WSOs…let me ask you one question:
Where Has THAT Gotten You?
You see, we're opening up Job Crusher for a limited time so we can free you from "Shiny Object Syndrome"… the condition that has internet marketers furiously hopping from one "shiny object" after another…after another…after another.
Another $17 course, another $7 e-book, another $12 piece of software…
…leaving you in the same frustrating place thousands of dollars…and months of wasted time later.
You see, in 2006 Eric used to "spin his wheels" constantly when he tried to get started online. He even came close to throwing up his hands and giving up—but the motivation to quit his job kept him going.  But he kept at it and "cracked the code" to online success and quit his day job.  A few months later he started teaching other's how to do the exact same thing.
I have been online since 1997 and had built multiple 7 figure businesses by that time, and together we decided to do something special to help everyday people achieve success online.
Why?  Because we simply hate seeing people led down dead-ends.  So that's why Eric swore be that person who would one day sincerely help ambitious people make money online too…and I decided to join him.
And that's why….
Eric Registered Job Crusher
On Independence Day, 2006
When He Quit His Job!
You see, over 15,000 people have gladly paid a premium every month for access to Job Crusher for the past 6 years…and MANY Internet marketers credit the site for giving them their Internet marketing "start".
In other words, this is not some "fly-by-night operation"…this is a real, HONEST program. Job Crusher doesn't promise an endless parade of paydays with little or no effort from you.   Or some B.S. 3-click software that'll make you a millionaire overnight.
I hate to burst your bubble but that simply doesn't exist.  You want to build a REAL business…with REAL sustainable income.
…not some "loophole", "glitch", or "hack"  that's going to make you a couple hundred bucks/month…but simply "dry up" when the search engines "wake up" and realize what you're doing.
So if you feel like you're on the "WSO merry-go-round" buying $7 products off the Warrior Forum, it may NOT be your fault.
After all, if you're given faulty directions, it doesn't matter how good a driver you are…or how fast you race down that path.
You see, the "big hitter" marketers out there didn't get rich by buying $7 ebooks and $17 "pushbutton" software.  We sure didn't.
Hate to break it to you, but it's true…
Well, here's your chance to join the REAL DEAL…with over 15,000 members strong.  And get Eric and I to MAKE SURE you succeed through our just-added Elite weekly coaching:
Job Crusher RELOADED!
When you join Job Crusher for this special "Time sensitive" opportunity, you'll get 50 Million dollars worth of answers, secrets, and a step-by-step formula you can "cut and paste" for your own business.
Like we said before, we're not some Johnny-fresh-out-of-the-box new kids on the block who spent a weekend writing a "make money online" e-book to sell you.
Eric Louviere and I are the real deal.  We don't hide behind fake names, and you can Google us up to check us out.
We've been doing this stuff since the late 90's…before most people owned a personal computer…let alone an Internet connection.
Heck some members have been with us since 2006 (when the doors opened!) and have been there all along.
And many have credited Job Crusher with changing their lives and providing them their starts.  Not to mention our high-level coaching program that others have paid up to $1,500 for and you'll get access to for next to nothing:

Here's What You'll Get
IMMEDIATE

Access To When You
Join Job Crusher…In Addition To
The Weekly Coaching Program!
Job Crusher Component #1 (Worth $497):
Job Crusher Mentoring:
Look: it's been proven time and time again that you have to follow in the footsteps of someone whose "been there and done that".   So that's why we created Job Crusher Mentoring:
You're going to get weekly videos showing you the "nuts and bolts" of making money online from home.
You'll get actionable content that comes from YEARS worth of trial and error…and our blood, sweat, and tears.
You're going to get every single traffic-getting, income-generating, and profit-exploding tactic from 2 guys who've

generated over 50 million dollars

online!
This is where the money's at!  You're going to be blown away at what you're going to discover here
Job Crusher Component #2 (Worth $197):
Job Crusher Community Forum:
This is where the movers and shakers hang out!  Our forum has been going strong for 6 years with 5,000 members…and is a prime place to interact, share results, get help, offer opinions, and get motivation.
You'll get exposed to many potential lucrative joint-venture opportunities that could accelerate your results.
You'll get a TON of actionable advice from the other members—some of which could shortcut your learning curve big time!
You'll also get help from our staff, tech wizards, and SEO starts, so if you're stuck any anytime, we're here to help!
One more thing: there's no "negative Nellys" on this forum.  We have a rule to keep things positive, fun, and helpful!
Job Crusher Component #3 (Worth $1997):
Video Of "Ultimate Traffic Tactics
LIVE" 3-Day Event!
You'll get access to a "behind closed doors" event from Atlanta that contains "soup-to-nuts" info on how to drive traffic.    Here's what you'll discover:
A super-secret technique that could allow you to build a list of 10,000 followers in matter of days (you'll discover how to do it!)
How to get free traffic from a very unconventional technique NOBODY does…and most don't even know about!
This is where the world's top internet marketers performed a collective "brain dump" and unloaded traffic tactic after traffic tactic…for you to "swipe and deploy" for yourself.
Seriously, it would take you YEARS to get this traffic-siphoning info if you tried to gather it yourself.  This is truly the mother lode…and you'll get access to the FULL 3-day event via streaming video!
Job Crusher Component #4 (Worth $997):
"Big Money Earner"
Interviews And Case Studies!
You know how they say "success leaves clues"?   Well, here's where you're going to get the lowdown on "what's working now" from today's big money earners online!
Every month, you'll get an interview with an internet marketing expert who'll reveal THOUSANDS of dollars worth of actionable content you can literally "cut and paste" into your business.
I mean, think about it:
Imagine getting a full-blown presentation from a multi-millionaire who has built up a jaw-dropping income all from following a simple formula.
Imagine an expert on psychology who shares with you a mind-boosting technique that will allow you to earn 520% more income this year!
Imagine an expert at branding teaching you how to get publicity.
Imagine a professional speaker teaching you how to win more friends and speak like a pro.
You'll hear from mindset experts, copywriting and persuasion experts, millionaires, traffic generators, affiliate marketers, product creators, tech stars…you name it!
Job Crusher Component #5 (Worth $497/Month):
Entrance Into Our LIVE
Elite Weekly Coaching Program!
Here's what's going on:  We have a weekly elite coaching program where people have gladly paid us a fortune to learn from us.
We've had almost 900 people go through this elite program since we started it, and it's still going strong today.
And, no, these aren't a bunch of cheesy GoToWebinar sessions where Eric and I talk back and forth to each other during some boring slideshow.
This is a LIVE event…where we lock ourselves in a REAL conference room…and students can actually see our faces via Livestream.
We get "down and dirty" with our client's sites…showing them where they can improve, what mistakes they're making, and how to

extract more money

from their site.
We also answer people's questions and make DARN sure

everyone gets the help they need

before they get off the call.
And we make sure everyone on the call understand and IMPLEMENTS what they discovered on the call (this isn't just a brain dump of information just for the HECK of it!)
People pay us anywhere from $1,500 and UP for coaching…and here' the chance to pick our brains for way cheaper!
Job Crusher Component #6 (Worth $497):
Your OWN "Locked And
Loaded" Membership Site!
You know the saying: "Teach a man to fish, and you'll feed him for a lifetime?"
Well, when you join Job Crusher today, we just decided to GIVE you the fish by giving you your OWN locked-and loaded membership site!
You see, many "newbies" get hung up on the "techy stuff" when it comes to building a site.  So we decided to save you the trouble and GIVE you your own membership site with your Job Crusher membership!
You just pick the niche and domain, and we'll set it up for you.  Heck, we'll even help you choose your domain if you're stuck with that…and even HOST it for you!
This alone will save you a LOT of time, potential headaches, and technical issues that might hold you back from achieving immediate success.
All you have to do is implement our PROVEN blueprint via our weekly coaching calls and the other good stuff in Job Crusher, and you're all set!
As you can see, we REALLY over-deliver when it comes to helping real people like YOU achieve success online.
And it's been around long enough to be a "grand daddy" when it comes to online success.  That's because Job Crusher produces results…not "pie-in-the-sky" pipe dreams.
Think about it: if Job Crusher was just another "pushbutton" guru fantasy just to grab your money, then there's no way we would have lasted 6 years!
You see, that CRAP usually fizzles out after 2-3 months…until the next ""How I Made $231,323 In 10 Minutes" course gets released.
So keep reading to discover how you can get Rolls-Royce training for coffee-shop prices!
Here's Just SOME Of What You'll
Discover When You Take A 'Sneak Peek'
Into The Member's Area!
The secret to creating high value products quickly so your target audience will salivate and yank out their credit card and buy (this is how you're going to get the BIG paydays!).
Why the majority is always WRONG when it comes to making money online…and what you can do right now to exploit this for a huge income (big time Internet marketers do this all the time!).
Ninja email marketing techniques that'll allow you to siphon cash from your niche list (most marketers really SCREW this up!).
Our simple formula for creating a website without pulling your hair out and crying "Uncle" (Technophobes rejoice!).
Voodoo copywriting secrets that could catapult your conversions into the stratosphere (this is where the "rubber meets the road" when it comes to earning online income).
The #1 secret to building a profitable business without lifting a DARN finger (Bill and I used this over and over again—in fact, the less we work, the more money we make!)
The elusive 3 pillars of earning massive income we've been using over and over again to earn massive income online (this is like getting the keys to Fort Knox!)
Our proprietary 11-day "turnaround" system that could completely change your financial life forever.  This is our 11-day blueprint for getting your Internet business up and running in no time!
7 critical ways to let "drop-dead" simple emails do all the work for you in your internet business so you can take the day off and goof off for a change (wouldn't that be nice?)
Now It's Time For
Some Straight Blunt Talk:
I'm not about to tell you that generating 50 million dollars in sales online like we have collectively is the typical or average result of anyone who invests in Job Crusher.
Our success shouldn't be taken as some representation or prediction of what you'll do.
We guarantee no results, but we do guarantee value by your judgment.
With all due respect to Eric (and I know this for myself), we possess no education, IQ, financial, or other advantage you don't already have.
And I promise that the exact same strategies and tactics we've exploited for the past 20 years collectively will be available to you in a "drop-dead' easy-to-use format.
Consider this to be an investment…not another "Shiny Object". You're getting $4682 worth of value here when everything's added up, but we're not going to charge you that…
Join Job Crusher Today For
The Same Cost Of 2 Mocha Lattes!
Now here's where I start talking about how much I "tossed and turned" in bed at night and "consulted our guru buddies" about how much to charge for Job Crusher…
I'm going to spare you the B.S.  As part of this offer, I'm going to let you in on Job Crusher for 7 days for only $7.
Think about it:  when's the last time you spent 7 bucks?  It was probably on some junk food, a magazine, a couple DVD rentals, or a couple Starbucks Mochas…
…you know, stuff that was gone in an instant.
Why not use that money to get a "sneak peek" at what Job Crusher is going to help you finally make money online…using simple and HONEST internet marketing tactics.
I mean, c'mon, it's only 7 bucks!  Not exactly asking you to take out a second mortgage on your home here.  You get your OWN membership site, access to our $597/month weekly coaching program, and access to the Job Crusher membership site.
We simply CHALLENGE you to find a better program out there that provides you with the tools you need to start getting REAL results online.
Go ahead, try to find it on the Warrior forum, or anywhere else.
And if you like what you see, all you have to do is stay with us and become a regular member for $34/month…which we'll automatically charge at the end of your 7-day trial for your convenience.
Give Job Crusher A Try
For 100% ZERO RISK!
Come on inside, take advantage of our weekly coaching program other people have gladly paid over $1,500 to attend, watch our step-by-step videos, and begin your path to achieving more success online.
There's a LOT of stuff in Job Crusher and you're going to need the whole 7 days to check out what we have in store for you.  So feel free to hang out as long as you want …there are no hurries.
We guarantee you're going to be bowled over with SO much value, that you're going to stick with us—just like previous "big-time" internet marketers have done before you.
If you're not completely blown away at what we've created for you, simply let us know within your 7-day trial and we will cancel your membership.
NO questions.  No hard feelings. In fact, if you're not blown away, we WANT you to cancel your membership.
And if you decided to stick with us (and we know you will!) you can cancel anytime in the future as well.  We'll even refund your last rebill within 60 days if you're not blown away at what Job Crusher has in store for you.
That means you can confidently browse the forum, take part in our weekly calls, and absorb EVERYTHING Job Crusher has in store for you—knowing you are covered by our 100% ZERO Risk Guarantee.
And did we mention we had a private forum full of THOUSANDS of members who are ready to help you out each and every day?  We're here to help you, and you'll never feel like you're "going at it" alone!
 So you simply cannot make a mistake here!  So go ahead and join us below, at ZERO risk, and we'll see you on the inside!
This Could Be Taken Down At
ANY Time… So You Better Hustle Up!
Just ask anyone else who has tried to join Job Crusher but suddenly found out that our doors were closed…
…Job Crusher is notorious about closing its doors for a LONG time. In fact, it's been 7 months since the last time we brought in a round of new members.  And in the meantime we get people hammering our customer support desk—BEGGING to be let in.
You see, we are celebrating our 6-year anniversary this year, and this is a special offer to allow new and ambitious people to get a "taste" of how we can help them.
We're letting people in on our elite weekly coaching program, and we can't leave this offer open for long so we ensure everyone gets personal attention.
It is critical to understand that this offer is severely limited and will go away.  But the good news for you is…if you're seeing this webpage, then the deal is ON!
Entrance in our elite weekly coaching series.  And your OWN full-fledged membership site for only 7 bucks.   It's a no-brainer!
If you've read this far, you know what to do.  Take action by clicking on the Add To My Order button below…or risk getting shut out forever!
15,000 People Simply Cannot Be
Wrong. It's Time For You To Join Us!
Whether you currently have an online business and need more traffic.  Or are just starting out in Internet marketing.
You read this far for one reason:
We made sense to you.  We did not did not pander to simple greed or foolish lust…or promise some kind of easy magic bullet or "loophole" that promises pushbutton riches.
Nor did we brag too much about the many millions we've made over the years…
We have given you the blunt, lowdown truth on how Job Crusher can help you finally get over the hump…and lead you to making REAL money on the Internet.
In fact, here are our 8 promises we cheerfully have kept for 6 years as a part of Job Crusher…and will continue to do so when you join today!
We promise to provide you with all the information you'll ever need to build a real online business so you can quit your job and earn six figures from home.
We promise to provide you with great customer service and world-class support…
We promise to provide you with top-shelf mentoring based on results (money getting activities)
We promise to treat you well, to treat you how we'd like to be treated… and we promise to not lie to you or to give you false hope or empty promises.
We promise to do what we say we'll do…
We promise to keep you updated on the latest information, cutting-edge techniques and changes to the net.
We promise to give you everything we've got for earning a full-time, six figure income, online from home!
We promise to not abandon you, or this dynamic program. We plan on being here for a very long time to come…as we have the past 6 years…and Job Crusher is our full-time home!
We guarantee that NOBODY over delivers like us when it comes to teaching Internet marketing.  And we KNOW you're going to be satisfied!
So if your ready to step up and get serious about making money online, then you know what to do:  Click on the Add To My Order button below to get started!
 So Are You A "Doer"?
 Or A "Pretender"?
So now we've come to the proverbial fork in the road.  The great baseball player Yogi Berra once said, "If you come to a fork in the road, take it."
But of course, you can't.  You must choose one direction or the other.
You see, most Warriors who browse and purchase WSOs are "pretenders".  They buy the $7 eBooks and store them on their hard drives—just waiting for the perfect time and place to "get around to it someday".
But the problem is, that someday never comes.  Days, weeks, and MONTHS go by while they're still "wishing, hoping, dreaming"…
…Whereas "doers" take action immediately when the opportunity comes.
You've seen the overwhelming value we've presented to you in this letter. You've seen the testimonials from todays Internet marketing "heavy hitters" who got their start with Job Crusher.
Now you have two choices:
Get exposed to a PROVEN money-making system 6 years in the making, 15,000 customers, and

50 million dollars

worth of money-making experience.
Or…
Go go back to "things remaining the same".  Getting the same results, keep "spinning your wheels" with "shiny objects" and gimmicks, and remaining stuck forever.
We're not asking you to do anything extreme.  Just 7 bucks.  But we can promise you more than one sentence of actionable value.  In fact, we guarantee much more.
We're just asking you to click on "Add To My Order" Below and let everything we've prepared come to you to explore for 7 days.
Your Action To Join Should
Be Taken RIGHT NOW!
Only $7 To Get Started!
The trial for Job Crusher is $7 for 7 days and you can cancel anytime.
 After the 7-day trial you will be automatically billed $34 every month unless you
cancel your subscription.
When you join Job Crusher, you'll want to do the following 4 things:
1)    Once you get inside, watch the "Welcome" video
2)    After you watch the welcome video, go to the private forum and introduce yourself.
3)    Watch the "Quickstart" videos
4)    Dive in, follow what the "Quickstart" videos teach you to do step-by-step, and boost your chances of quitting your day job!
You're going to absolutely fall in love with Job Crusher. It's going to be your "money place"!
And you'll feel better knowing you have 2 proven marketers who'll help you weekly via our weekly conference calls…so you don't feel like you're "going at it alone".
So don't assume you can "figure it out" yourself by spending countless hours reading forum threads, blog posts, free reports, and $7 ebooks.
This is a chance to still pay $7…and get REAL help thanks to our elite weekly coaching program.
No funny stuff here.  And we've got the results to show for it…over 50 million dollars in online sales and 20 years of marketing experience between us.
You simply cannot make a mistake here!  So click on Add To My Order right now, while it's still hot on your mind!
Respectfully,
Bill McIntosh and Eric Louviere
P.S.  We want you to think long and hard about this: we want you to write a note and send it to yourself with a delivery date of 2025.
The question is:  what did YOU do–back when the time was ripe to make REAL money on the Internet?
…when the internet and technology made it possible for anyone, regardless of natural talent or "skills", to quit their jobs and work from home?
…when somebody truly credible…who has 20 combined years of experience and 50 million dollars under their belt…and a solid track record of guiding people to wealth stepped forward with a plan for you to capitalize…what did you do?
I hope that you'll write that you DID take action…and didn't sit on the sidelines. Well, here's your chance right now for only $7.   Claim your trial of Job Crusher by clicking "Add To My Order" below!
© 2012 JobCrusher is a registered trademark of Crusher Productions LLC. All other marks are the property of their respective owners. All rights reserved.
Unauthorized duplication or publication of any materials from this site is expressly prohibited.
The results shown are not typical of our average user.
This site and the products and services offered on this site and the products and services offered on this site are not associated, affiliated, endorsed, or sponsored by Google, Clickbank, eBay, Amazon, Yahoo or Bing nor have they been reviewed tested or certified by Google, Clickbank, Yahoo, eBay, Amazon, or Bing. ClickBank is a registered trademark of Keynetics Inc., a Delaware corporation. This site is not affiliated with Keynetics Inc. in any way, nor does Keynetics Inc. sponsor or approve any of this site's products. Keynetics Inc. expresses no opinion as to the correctness of any of the statements made by this website in the materials on this Web page.
The typical purchaser does not make any money using this system. This website does not guarantee income or success, and examples shown in this presentation do not represent an indication of future success or earnings. The company declares the information shared is true and accurate.