Hello and Thank You for joining!
You just joined a great team and a close family of likeminded people. There's some really really good people inside this program and you're going to see that right away. We all help each other out, we're all this close knit tight family inside this program. We really have a lot of fun, but we also get into the guts of making money online and it's just over deliver after over deliver sessions. You're gonna absolutely fall in love with this program and thank you so much for joining, it was a smart move.
There's a lot going on here on JobCrusher.com. It's important not to get distracted by all the additional content we provide. We wanted to take a minute to show you around and help answer some questions that may come up.
The First and Most Important area is your Members Page. This page will list all of the products that you have access to. Make sure you bookmark your Members page so you can always easily get back to it. Here is an example of what the Members area looks like: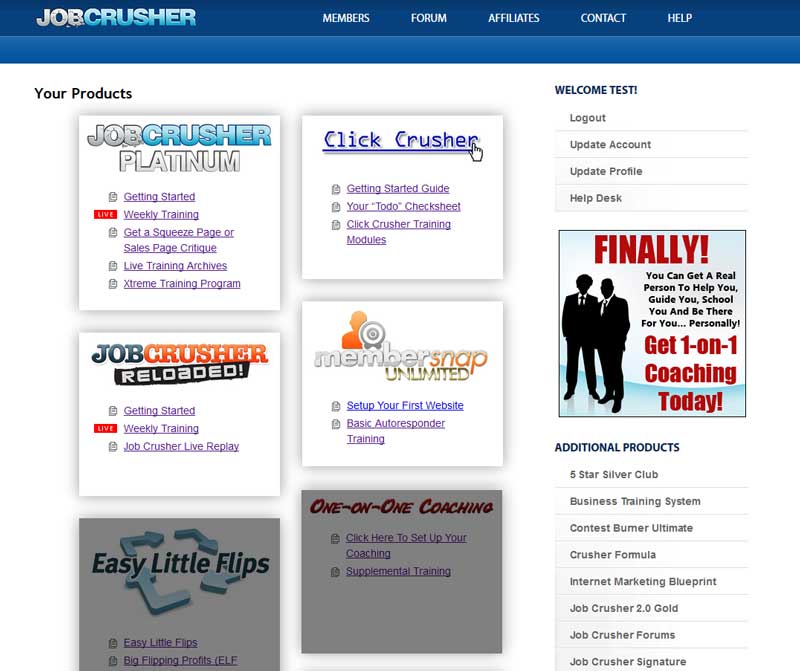 As you can see, many of our products have a lot to them. We like to pride ourselves on over delivering, but this can sometimes lead to confusion. The important thing to focus on is the product you purchased. The additional bonuses are there to help supplement your training, but you want to make sure you start with the one you bought and once you understand that, then you can look through the bonuses and consume that training as well.
We deliver a large number of products on this one site, and it can be confusing when you run into an area that you do not have access to. When you click on any of the links on your Members Page those will take you right to the content that is available to you.
The next area to check out is our Forums. JobCrusher.com has been around since July 4th 2006, and the Forums contain a wealth of information from the long and storied history of the site. The Forums are also where you can go to get help not only from the Crushers, but get help from all the other very skilled and talented marketers here on the site. Introduce yourself, ask, answer, help, be helped and participate. The Forums are the place to be!
If you have questions not answered here, or need further help, you can contact us in our Support Desk to get additional help and support.