Join The RCL System "4 Week Intensive!" And Get Personal Hand Holding And Mentoring To Jump-Start Your Entire Business!
Get Million Dollar Mentoring & Masterminding, Software, Sites
And Much More!
You Get:
4 Live, Group, Mentoring & Mastermind Sessions With Bill & Eric
30 Days of Hand Holding, Support, Answers And Coaching 1on1 With Carlos!
We will build up to 3 sites for you and host them for up to 3 years!
We will divulge our deepest and closely guarded secrets for "offline consulting"
We will show you our cutting edge SEO secrets
You will get secrets we've never revealed before (ever) for earning big money with offline
This Solution Automates A Bunch Of The Manual Steps For You!
This solution also injects more data into the search engines than a simple plugin can
This solution is already set up to attract leads and have businesses asking for your help
This solution is set up to be a lead magnet
This solution can take payments directly online
This solution short-cuts at least 30 days of learning, set up, technical problems, etc
By Joining our RCL System "4 Week Intensive" You'll Gain Access To Our Solution For Earning More Money, Faster & Easier!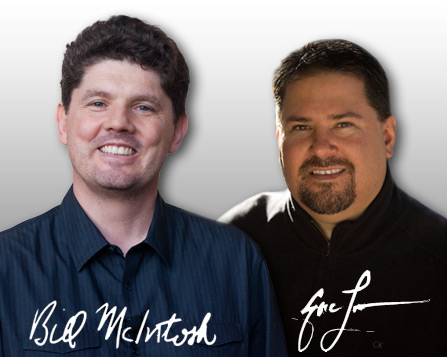 Bill McIntosh & Eric Louviere
PS – Take a leap of faith and just let it fly! Just do it! That's when everything gets set in motion for you.
Just have faith and take bold action with confidence. Let it fly! We'll be there for you!
PPS – 90 Day Money Back Guarantee! That means you have no risk!