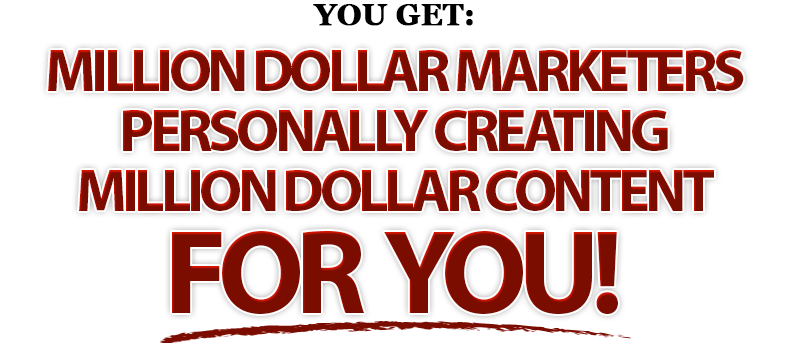 ---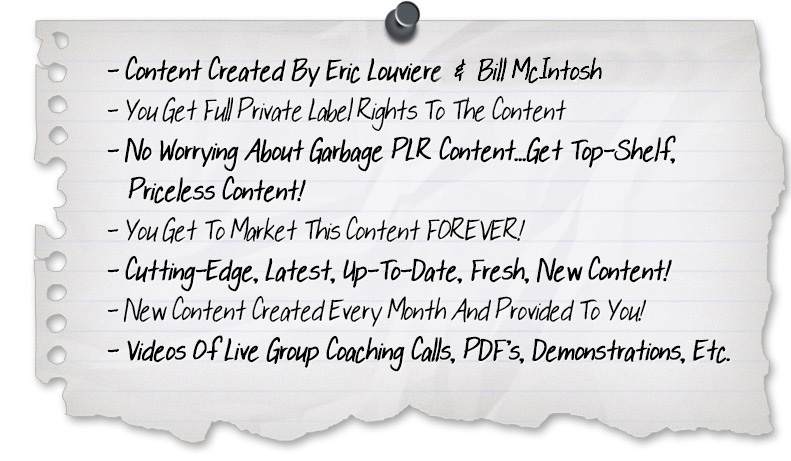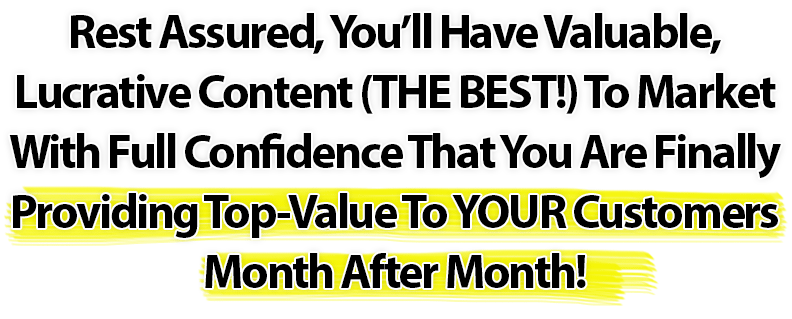 ---
Dear Friend,
Eric Louviere here, along with my partner Bill McIntosh…
I'll keep it short and to the point as I know you are excited to get inside this program and get the ball rolling fast! And, you should be excited because this is a stellar, obviously valuable opportunity for you…
You see, most people in this market stumble around for years trying to figure out how to create valuable content for their customers… and it often takes YEARS to get any good at creating top-shelf content anyway!
Well, right now, you can destroy that learning curve… blow past all the trials and errors and speed up the entire process by getting the very best content right here and right now!
Listen, it's important you realize…
Content Like This Could Normally Cost You Thousands Of Dollars… Not Joking!
Because you are basically buying million dollar content from million dollar marketers, and that's like buying a business if you look at it that way. I mean, this content comes from years and years of hard work, figuring this stuff out ourselves and then teaching it.
It's like having… a million dollar teacher… to create content for you. Look at it like this… most people in this market hire outsourcers or ghostwriters from the Philippians or India to create their content for pennies.
However, that content is often pure rubbish and not very valuable at all. It's hard to market that content with confidence, knowing in your heart that the content is garbage.
Instead, with "Instant Marketing Guru" content, we are providing you with stellar, top shelf, elite content! You are now providing incredible content to your customers and you can rest assured your customers will LOVE IT!
Eric Louviere Versus Some Ghostwriter From India… Who Wins In Creating Content??
Lets be frank here… there's no competition. Most ghostwriters have not generated millions of dollars online themselves and are not experienced in teaching this stuff like I am.
It's not genuine for them to conduct Live webinars or coaching sessions or record videos, or even write about "making money online". They are no where even close to the same galaxy as I am on this content.
Therefore, for you, this is as good as it's going to get on content. Likely, 99% of the people in this market cannot create the kind of valuable content as I can… and 99% of the people out there NEVER WILL be able to create this kind of valuable content either. Never-Ever…
All in all, this content can serve you for years to come and it's content you can bank on. It's not garbage PLR content that barely makes sense and it's not crap. It's great content created by me and/or my partners!
Special Announcement: We've added Bonus on top of Bonus for You!
You are not only getting the high end, professional level content but we are also giving you these incredible bonuses! We are letting you in to our Job Crusher Platinum program. This green lights your access to "live" weekly coaching covering every aspect of making money online, including hands-on critiques of YOUR websites, squeeze pages, emails, and your copy-writing. It is the most complete training on internet marketing online today.
This service is worth the price of admission alone. You couldn't ask for more!
But we are giving you more, in fact we are giving you over $5,000 of other products & training all on a silver platter. Including Contest Burner, the amazing viral contest software program that you can use to flood your website with traffic. It is easy as 1-2-3 and the results are nothing short of spectacular. You will get a viral buzz going across the internet, flooding your website with backlinks and traffic!
And finally as if that wasn't enough, we are giving you your own fully paid for OUTSOURCER for an entire 30 Days. That's right your own Outsourcer to use for 30 Days. Use them to drive traffic. Use them to recruit affiliates… Free traffic generated by a free outsourcer: how cool is that??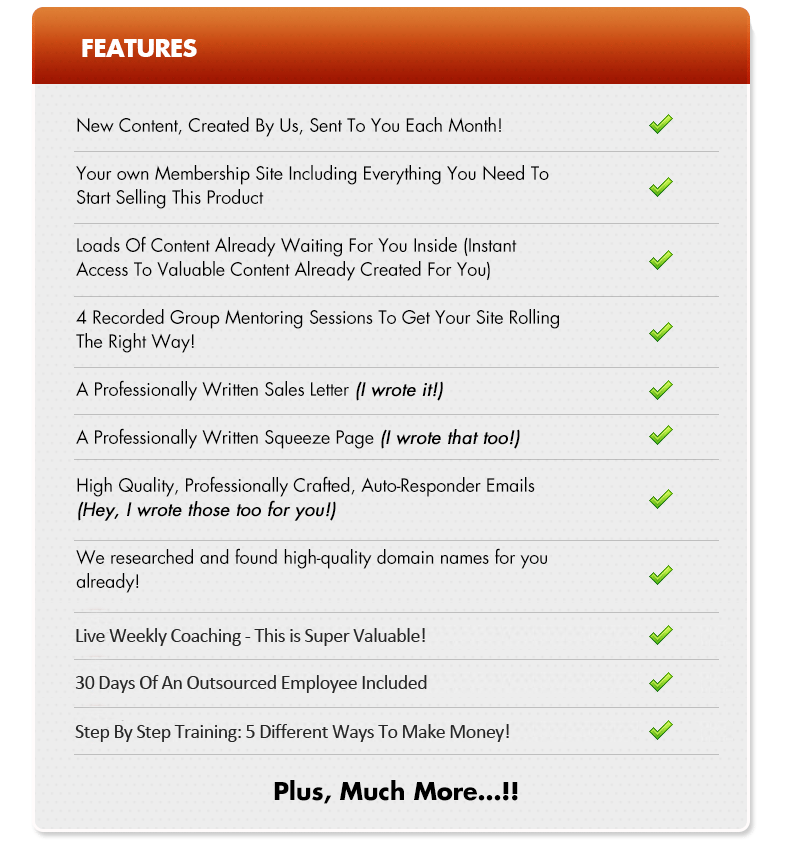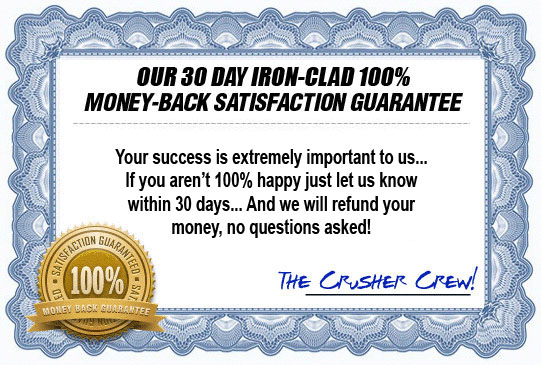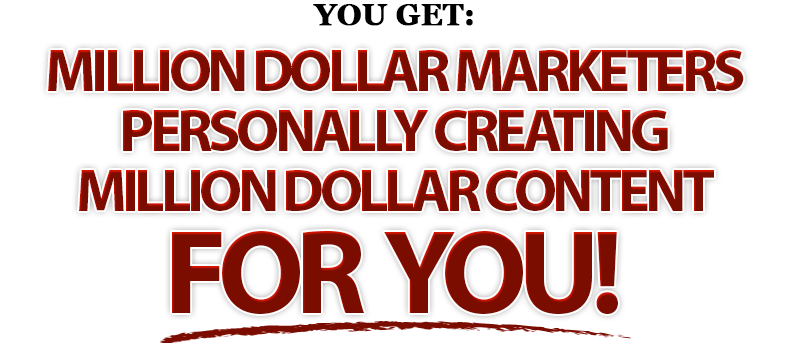 See You Inside!


Eric Louviere & Bill McIntosh
Crusher Productions
PS – Of Course, Indeed, This Offer Is Severely Limited And The Slots Will Fill Up Quickly! Once This Closes, The Second It Closes, It'll Be Closed For Good! Please do not ask us to reserve a seat for you on your word because that will cause others to miss out who are ready to join now! Thanks!